Regular price
$14.50 USD
Sale price
$14.50 USD
Unit price
per
Sale
Sold out
Our Goat Milk Lotion with Honey and Shea Butter is a highly beneficial and nourishing moisturizer for your skin. This lotion is enriched with natural ingredients that work together to provide hydration, healing, and a luxurious feel.
The key ingredients and their properties are as follows:
Goat milk: Goat milk is known for its rich content of proteins, triglycerides, vitamins A, B6, B12, C, and E. These nutrients make it an excellent natural moisturizer that helps to hydrate and nourish the skin. It is especially beneficial for sensitive or dry skin areas.

Honey: Honey is a natural antioxidant and anti-inflammatory ingredient that offers numerous skincare benefits. It helps to soothe and calm the skin, while promoting collagen formation. The collagen formation can help diminish the appearance of fine lines and wrinkles, giving your skin a more youthful and plump look.

Shea butter: Shea butter acts as a protective barrier on the skin, sealing in moisture and preventing dryness. It provides intense hydration and helps to maintain the skin's suppleness. Shea butter leaves your skin feeling incredibly smooth and silky soft.
In addition to these beneficial ingredients, our Goat Milk Lotion also comes in a variety of amazing fragrances. You can choose from a selection of delightful scents, allowing you to personalize your moisturizing experience and enjoy the aromatic bliss while nourishing your skin.
By using our Goat Milk Lotion with Honey and Shea Butter, you can provide your skin with the nourishment it needs to stay healthy and moisturized. The lotion's natural healing properties, combined with the power of goat milk, honey, and shea butter, make it a must-have skincare product. Experience the luxurious feel and choose your favorite fragrance to enhance your skincare routine and indulge in a silky soft and beautifully scented skin.
Ingredients: Water, Glyceryl Stearate, Isopropyl Myristate, Cetearyl Alcohol & Ceteareth-20, Stearic Acid, Caprylic/Capric Glycerides, Stearyl Alcohol, Soybean Oil, Shea Butter, Diheptyl Succinate, Capryloyl Glycerine/Sebacic Acid Copolymer, Sunflower Oil, Aloe Vera Juice, Goat Milk Extract, Honeyquat, Methylparaben, Propylparaben, DMDM Hydantoin, Triisopropanolamine, Disodium EDTA.
8oz pump handmade in the USA
Share
View full details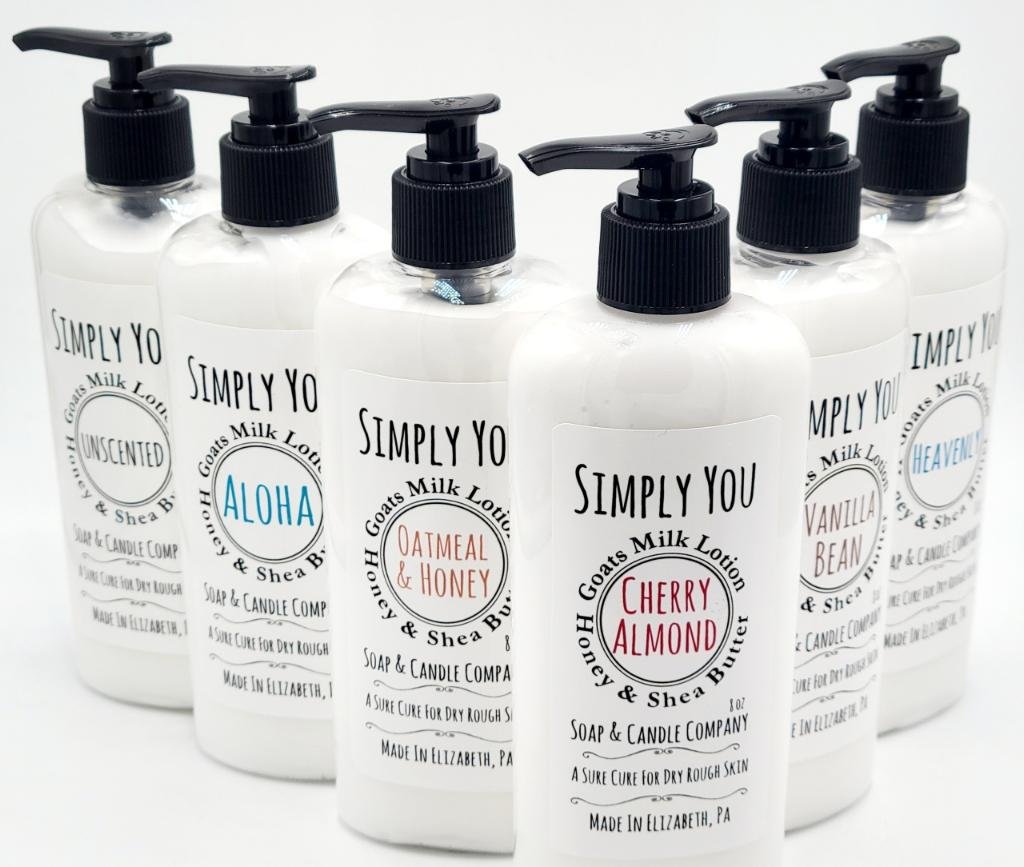 Perfect!
The vanilla bean goats milk lotion has just the right amount of fragrance: pleasant and long-lasting but not overpowering. Hours later, I can still detect the mild scent on my skin. The lotion is effective on dry skin without being greasy
LOVE!!!
This lotion is amazing! I have very sensitive skin and the Oatmeal and Honey does not irritate my skin at all. Years ago I found this shop while visiting family in PA. I've been ordering having it shipped to me every since!
I love all three scents of lotion I purchased. The lotion works well and I can still smell it on my skin after a twelve hour shift at work. I will definitely be purchasing more.
Love this lotion! I have several bottles in different places around the house. Cherry Almond is my number 1, with Aloha being number 2! I've given this lotion as gifts.